I
f you have downloaded movies, in RAR Archives that have been split up into more than one parts using a Winrar you will know how frustrating it can be coz the movie may be one you already own or it may even be the wrong one. And to preview it you need to download all the parts.
Heres a method to preview the movie by downloading only the first part.
To preview .mpg .wmv .avi .mp3 files -
Things you need -
1. Winrar Archiver
2. Password for the RAR Archive, if it is password protected
3. A Media Player like Winamp, WMP..............
How to do it -
Lets assume that you want to preview a movie that has been converted into 7 RAR Archives named - claudia_ferrari_shq.part1.rar, claudia_ferrari_shq.part2.rar, .............., claudia_ferrari_shq.part7.rar.
And lets say you have downloaded claudia_ferrari_shq.part1.rar and want to preview the move inside it. (Note for this to work you must download the first part. It doesnt matter if you download any number of parts as long as they are in order, ie. dont download the last part first).
Now open the first part with Winrar. And click on Extract To button.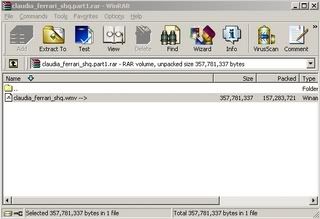 Now comes the important part DON'T FORGET TO CHECK THE Keep broken files BOX AS SHOWN IN PICTURE -
You can either enter a custom address to save the clip in or you can continue with the default address, like I did. Click Extract. If the file is password protected you will be prompted to enter the password, in this case enter the password and click ok. If you downloaded more than one archive (in this case I have downloaded 3 parts - claudia_ferrari_shq.part1.rar, claudia_ferrari_shq.part2.rar, claudia_ferrari_shq.part3.rar) you will get the following message -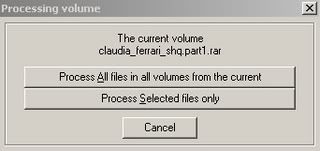 Click Process All files in all volumes from the current, to extract files from all the downloaded parts. After this you will be able to see the extraction screen -
After the files from the parts have been ectracted you will prompted to give the path for the
next part.
Now click Cancel. On doing this an error window will pop-up.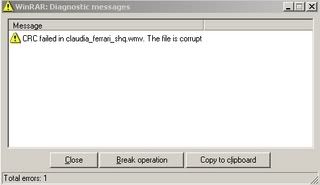 Click Close.
Now go to the pathname which you initially gave, while extracting the file.
And voila you will have the preview. Play this file with your default Media Player.
Sometimes while trying to preview .avi files you may get an error. You can remedy this by playing it in some other player like, Power DVD XP or I strictly recommend vlc player of
http://www.videolan.org/
to watch the movie!!! (of course, only the downloaded part will be watchable.
2. To extract Bin-Cue files -
Things you need -
1. Winrar Archiver
2. VCD Gear
3. A Media Player
How to do it -
Follow the procedure for extraction, as given above.
Now in the new folder that has been created there will be two files -
1. A .bin file
2. A .cue file
Now open VCD Gear, and in the Window click LOAD and then give the pathname of the .cue file.
On doing so, it will ask for a file name. You can either save it with default name or give your own name. Click OK
After the process finishes, go to the folder containing the .cue file. There will be a .mpg file in that folder now. Play the .mpg file and this will be the preview of the movie you are downloading.
Hope you ppl found this tutorial simple and helpful.